Acupuncture in Fort Collins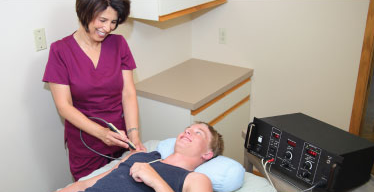 At Fort Collins Physical Therapy, we provide medical acupuncture, which includes electro-acupuncture and traditional acupuncture, as part of the treatment program for some of our patients — specifically those suffering from chronic pain, radicular pain, peripheral nerve pain, trigger points, headaches, and other conditions and illnesses. Please, give us a call if you have questions about our acupuncture services, or if you'd like to schedule an appointment for treatment at our office here in Fort Collins!
---
Electro-Acupuncture & Traditional Acupuncture
Electro-acupuncture Pain Management System uses a fine probe (NO needles like traditional acupuncture or trigger-point dry needling) that generates brief, continuous electric impulses. This treats headaches, sciatica, and radicular pain in the upper and lower extremities from spinal nerve compression, and relieves pain in trigger points, which are hypersensitive areas of muscle or connective tissues (also called muscle knots), by stimulating the muscle fibers at a high level that's still tolerable by the patient. Electro-acupuncture opens neural pathways, stimulates the endocrine system for better health, releases endorphins and serotonin, and in some cases, treats insomnia and depression. It is used on Olympic athletes to treat pain and improve performance. Electro-acupuncture is safe, noninvasive, measures progress, is more effective than trigger-point dry needling, and is covered by insurance.
Traditional acupuncture is an alternative medicine methodology that originated in ancient China that can help reduce pain and increase healing. It involves inserting thin, solid needles into specific acupuncture points in the skin that correspond to other points in the body that may be causing pain or other symptoms. In China, acupuncture is closely aligned with herbal medicine, but in Japan, it is more closely tied with massage. The Japanese form of acupuncture is gentle and helpful for pain, headaches, menopause symptoms, and much more.
– Caitlin Ahern MD, Medical Acupuncture
---